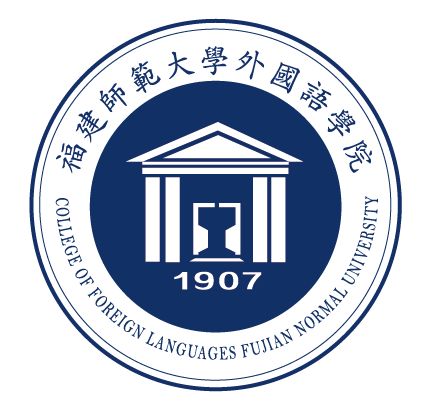 College of Foreign Languages (CFL) of Fujian Normal University (FNU) came into being as a result of the merger of three preeminent foreign languages departments of the province: that of Fukian Christian University, of Hwa Nan Women's College and of Fujian College. Dating back to the dawn of the 20th century and affiliated with distinguished schools of arts and humanities, the trio of its predecessors have endowed CFL with a humanistic tradition and a cultural legacy few other foreign languages departments in China could boast.
In part because of this very special pedigree, FNU in 1981 became one of just four normal universities throughout China to receive the official authorization for setting up China's first master's programs in English language and literature, and in a 1995 nationwide appraisal, its graduate program was ranked A by the State Council's Academic Degrees Commission. During the same period when it had been receiving recognitions on the national level, CFL also established itself as a center for foreign language teaching and research in the province. In 1985, its English program was designated by the Provincial Department of Education as one of Fujian's first nine "key academic specialties," a much coveted honor with which it was again awarded after a 1992 re-appraisal. In 1995, the master's program in comparative literature and world literature jointly run by CFL and the Chinese Department of FNU won a fiercely competed spot in the provincial "211 Project."
The growth of its graduate programs has never slowed down since the 1980s. Nowadays, with a total enrolment of over 200 full time graduate students, CFL offers master's degree in four academic areas: English language & literature, comparative literature & world literature, Japanese language & literature, foreign linguistics & applied linguistics, as well as a mid-career master's program for high school teachers of foreign languages and a specialized program in Master of Translation and Interpreting. More than 80 of those who had received an MA from CFL went on to pursue their Ph.D. degree in prestigious Chinese universities such as Peking University, Beijing Foreign Studies University, Shanghai International Studies University, Guangdong Foreign Studies University, Nanjing University, Beijing Normal University, and in internationally renowned institutions of higher learning in UK, USA and Australia as well. Among this group over 60 have already received their doctorates and have taken on important professional or academic positions at home and abroad.
The same impressive expansion is seen in its undergraduate section. Consisting of the Department of English Education, Department of Japanese, Department of Business English, College English Teaching & Research Division, and Asian-European Languages Teaching & Research Division, CFL currently provides five BA programs: English (for TEFL), Japanese, English (for business), International Business & Trade, and Teaching Chinese as a Second Language, for over 1088 full time students. CFL's English (for TEFL) program has won and maintained a high reputation in Fujian for decades. Attesting to the quality of the education this program has been offering, close to one third of its graduating seniors have been admitted to selective graduate programs in the past two years. Winning the first place in the 2004 university-wide assessment of program development, it has now been designated as one of FNU's first batch of "Priority Hallmark Programs."
Keeping pace with the remarkable improvement of its teaching is the just as remarkable success CFL has managed to achieve in upgrading its research and scholarship. Scholarly organizations and research facilities are fast becoming the most prominent of its institutional components. Affiliated to CFL are FNU's Foreign Language and Literature Research Center, Institute of Japanese Studies, International Language Training Center, and the editorial board of Foreign Language and Literature Studies, which is Fujian's only scholarly journal devoted exclusively to foreign language studies. In recognition of the high quality of its publications, the journal has been officially named one of China's outstanding foreign language periodicals.
Heavy investment in technology in recent years has also turned CFL into a technically sophisticated institution of foreign language teaching. Not only is it equipped with six multimedia digital language labs boasting state-of-the-art software and hardware, it is also the proud owner of a well-designed website that incorporates research, teaching and practical resources and has been receiving what could amount to over 5 million visits per year. CFL's official website has become an online multi-purpose platform for extensive exchanges between its faculty and scholars at home and abroad.
At present CFL has about 200 employees, of whom 182 are full time teachers and 16 are full professors. Over 40% of its faculty members are either associate or full professors and over 70% hold a master's or doctoral degree. Most of them are productive publishing scholars and, as a result, CFL has consistently ranked first, in both quantitative and qualitative terms, among its peer institutions in Fujian's Social Sciences Publications Awards. It has also consistently won more State-sponsored and Province-sponsored research projects than its counterparts in Fujian's other colleges and universities. It is little wonder that CFL also claims the greatest number of full professors among Fujian's foreign languages colleges or departments.
CFL's people-oriented political work has played a key role in its phenomenal growth. A sense of responsibility and commitment has been informing and inspiring its employees and students alike. Of its staff and faculty, one has won the honorary title of Fujian's Outstanding Political Worker and another the title of Model Party Member of Fujian. And among its students, four have been commended as Fujian's Most Accomplished College Students and two have even distinguished themselves by having their names listed on the honor roll of Outstanding College Students of China. Driven by the shared conviction that there can be no quality teaching without quality scholarship in the first place, and that the students can never be expected to excel unless the faculty first distinguishes itself, CFL's leadership, faculty and staff are redoubling their efforts to lay a solid foundation for a sustainable development of CFL in the new century.

Address: 32 Shangsan Road, Cangshan District, Fuzhou, Fujian, China
Zip code:350007
Telephone:0591-83465216 22868016
Fax:0591-83465216